Our people and our community come first. We are here to protect and serve you – now and always. to view our response to COVID-19
Integrate all the functions of a cash register with Your U Pull It Yard.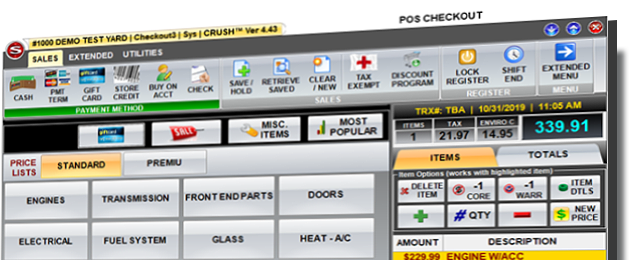 The CRUSHTM Point of Sale Module simplifies the cashier interface with easy to navigate touch screen menus. It was built specifically to minimize operational costs and customer wait times by reducing transaction times.
Easy to use menus enable cashiers to quickly identify, locate and accurately charge for all parts, minimizing losses due to operator error.
Uses your own custom part categories as cashier menu items. Truly an integrated system.
Gift card capabilities.
Flexible payment methods.
Parts warranty and environmental fees options.
Interfaces with Cash Dispenser payment of cores, refunds and cars without the need of a cashier.
The Point of Sale was built specifically to reduce the risk of operator error and loss prevention.
©2020 S3 Software Solutions
TM
| Salt Lake City UT |
801-355-3388
Location | Support | Privacy Policy |
Contact