Our people and our community come first. We are here to protect and serve you – now and always. to view our response to COVID-19
Buy it right. Sell it right and track it.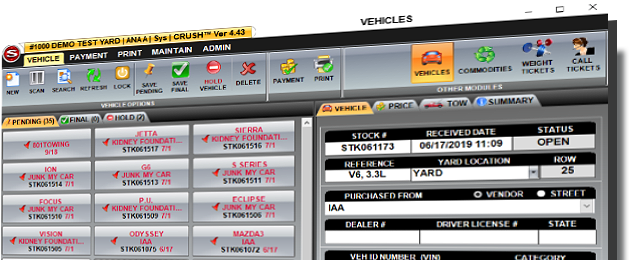 The CRUSHTM Inventory Module provides information for managers to make intelligent vehicle purchases, and track the movement of inventory within the facility.
Track the flow of vehicles throughout the yard.
Create and maintain Bills of Lading for tracking commodities.
Scale integration allows flexible purchase of vehicles by weight or by bid.
Maintain vendor account information.
Create custom yard locations to maintain vehicle inventory.
Pay-out options include cash, check or accounts payable.
Automatic Website Updates include: inventory, pricelist, cars for sale, new arrivals and sale items.
Core interchange information
Maintain vendor account information.
Tablet barcode scanning device for tacking vehicles and managing inventory.
©2020 S3 Software Solutions
TM
| Salt Lake City UT |
801-355-3388
Location | Support | Privacy Policy |
Contact